Success rates
We are very proud of the success rates we have achieved.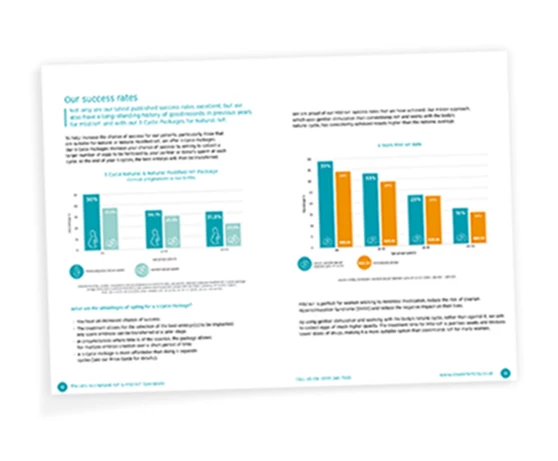 We understand how important success rates can be when choosing a fertility clinic so it's vitally important these are as accurate as possible.
Your personal success
We strive to be open, transparent and honest about our results, for this reason, we have included our latest data so you can be confident in our figures.
The only true way to get a real understanding of your success rates is to have a Virtual Consultation where one of our experienced medical team will be able to discuss the likelihood of success specifically based on your situation, giving you a more accurate assessment of your chances using fertility and IVF treatment.
This individual success rate will give an estimation of your chances of success based on a number of factors including your reproductive history, age, egg reserve, previous treatment history and any potential male factor issues.
Your specific success rate
It can often be very confusing trying to understand a clinics success rates, this is why it is important to remember that age alone cannot determine success, other things can also have an effect. You should consider the following:
The type of patients and any selection criteria
The type of treatment the clinic offers
There are a number of factors that affect success rates, we judge success not simply by one number but by; improving health outcomes, lowering risk of complications and reducing treatment side-effects. We will be able to offer advice and recommendations based on our in-depth diagnosis. Your chances of success, health and safety are our priorities and all aspects will be discussed to allow you to make an informed decision.
How to understand success rates
We measure our success rates against different stages of treatment. For example, we show our birth rate per embryo transfer, or our clinical pregnancy rate per treatment cycle:
Treatment cycles started (that is once the drugs to stimulate the ovary are commenced)
Egg collections (this is sometimes referred to as oocyte recovery)
Embryo transfers (this is the number of babies born per embryo transfer)
Embryos transferred (this is the number of babies born per number of embryos transferred)
This approach to measuring success gives a good idea of a clinic's ability to create and choose embryos for transfer. It also means results can't be distorted by two embryo transfers, which can boost results but can also increase risk of multiple pregnancies and births.
There are a few things to remember about what to expect from clinic results. Some patients don't reach the next stage of treatment, so it's normal for success rates to get higher when they're measured against later stages in the treatment cycle, such as the number of embryo transfer procedures.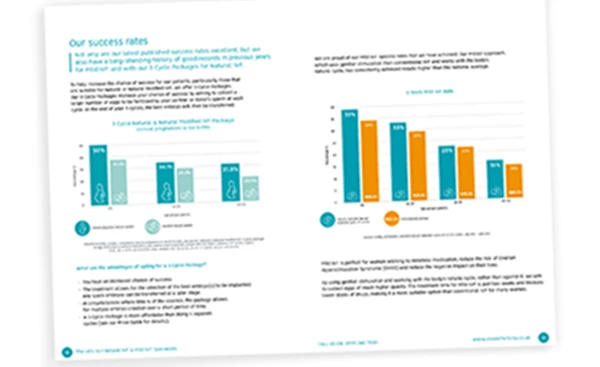 CREATE Fertility Mild & Natural IVF success rates
Vitanova is part of the CREATE Fertility family, who are leaders in Mild and Natural IVF. Our team is led by Professor Geeta Nargund, a world-renowned expert in Mild approaches in assisted reproduction.
CREATE's treatment protocols and approach have been implemented at Vitanova, which means you can access Mild and Natural IVF at Vitanova.
To give an indication of the success rates achieved with CREATE's approach, please see the success rates from CREATE Fertility St Paul's, London which are displayed below:
Stimulated IVF success rates
Clinic pregnancies per treatment cycle
Clinic pregnancies per embryo transfer
Live births per treatment cycle
Live births per embryo transfer
Clinic pregnancies per treatment cycle
Clinic pregnancies per embryo transfer
Live births per treatment cycle
Live births per embryo transfer
Clinic pregnancies per treatment cycle
Clinic pregnancies per embryo transfer
Live births per treatment cycle
Live births per embryo transfer
Clinic pregnancies per treatment cycle
Clinic pregnancies per embryo transfer
Live births per treatment cycle
Live births per embryo transfer
Natural Cycle IVF success rates
Live births per treatment cycle
Live births per embryo transfer
Clinic pregnancies per treatment cycle
Clinic pregnancies per embryo transfer
Live births per treatment cycle
Live births per embryo transfer
Clinic pregnancies per treatment cycle
Clinic pregnancies per embryo transfer
Live births per treatment cycle
Live births per embryo transfer
Clinic pregnancies per treatment cycle
Clinic pregnancies per embryo transfer